The Boozefighters Motorcycle Club (BFMC) is a motorcycles club, formed in California just after World War II.
Today, the BFMC has chapters across America with its national headquarters located in Fort Worth,Texas.
The first European Chapter was founded in the Azores Islands around 1990. Other international chapters include: Canada, Japan, Philippines, South Korea, France, Belgium, Italy, Germany, Switzerland, Sweden, Lithuania.
History
The Boozefighters MC first gained notoriety at the Hollister riot in Hollister, California the weekend of July 3–6, 1947, later portrayed in the movie " The Wild One ".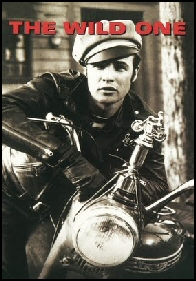 Due to the Boozefighters Motorcycle Club and other well known clubs like 13 Rebels taking part in the Hollister Riot and being a non-A.M.A. motorcycle club they are partly responsible for being referred to as the 1% from the A.M.A. officials for not belonging to A.M.A. Without the lawless behavior of these early motorcycle clubs at both Hollister Riot in 1947, the "1% Outlaw Rebel Biker" term wouldn't exist today.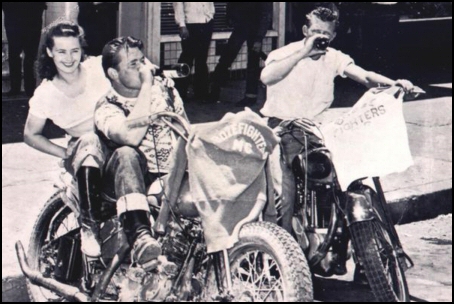 The Boozefighter Motorcycle Club was formed by veterans of World War II. "Wino" Willie Forkner is recognized as the founder. They were at the infamous Hollister, California event of July 4, 1947 which has been immortalized by the movie "The Wild One," starring Marlon Brando. Lee Marvin played the part of "Chino", based on "Wino" Willie Forkner.
California racing culture gave rise to a special kind of motorcycle engine, the "stroker". According to historians, it originated in the So Cal Racing circuit, shortly after the introduction of the Harley Davidson knucklehead. "Sitting around on a Saturday, at the bike shop, guys even from different clubs drinking beer together. CB Clauson, a Boozefighter was eyeing a scooter. He walked over and looked at it very calculatingly. CB picked up a piston from that scooter, walked over to another scooter, and looked at the cylinders. He then started to take measurements. No one had any idea what he was up to. This was when he had the idea that if he interchanged the pistons he could make a 'stroker' motor - which he did and the stroker was born.
The Boozefighters have chapters worldwide including the US, Canada, Europe, Korea and the Philippines but claim
No territory, only history.
Boozefighters® and the bottle insignia are registered trademarks. Any use of any kind is strictly prohibited without the explicit and written permission of the Officers of Boozefighters Motorcycle Club